Study Plan for the BPharm Program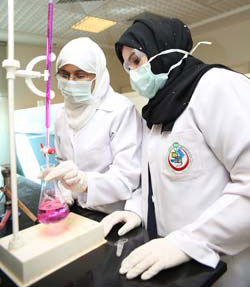 Dubai Pharmacy College for Girls accepts only female students with General Secondary School Certificate or its equivalent with science subjects (Physics, Chemistry, Biology, or Mathematics) for admission to Bachelor of Pharmacy degree program. The BPharm curriculum requires a minimum of 160 hours.
Dubai Pharmacy College for Girls grants its students, after successful completion, Bachelor's Degree in Pharmacy (B. Pharm.). The total program of Dubai Pharmacy College for Girls extends over four and half academic years and the maximum course duration to complete the degree within a reasonable time frame of six years.
The academic year starts in September and ends in the third week of July.
Each academic year is divided into 3 semesters.
The fall and spring semesters are composed of nineteen weeks of which 15 weeks devoted to teaching.
Summer semester is composed of 4 weeks in which maximum 3 subjects only will be delivered (Third week of June-Third week of July)
Each week has five teaching days which accounts for 30 teaching hours in a week.
Advanced Professional Practice Experience to be provided in the last semester (fall semester of fifth year).
| | No. of Courses | Credit Hours | % |
| --- | --- | --- | --- |
| Elective Courses | 4 | 6 | 5.0 |
| General Education Requirements | 10 | 21 | 13.1 |
| Core Requirement | 39 | 104 | 65.0 |
| Industrial training | 1 | 1 | 0.6 |
| Introductory Professional Practice Experience (IPPE001 & 2) and Professional Practice Experience | 3 | 24 | 15.0 |
| Capstone Project | 1 | 2 | 1.3 |
| Total | 57 | 160 | 100 |
| Domain | No. courses | Credit Hours | % |
| --- | --- | --- | --- |
| PS-Pharmaceutical Science | 11.5 | 34 | 32.7 |
| CS-Clinical Science | 22.5 | 57 | 54.8 |
| BBS-Basic Biomedical Sciences | 5 | 13 | 12.5 |
| Total | 39 | 104 | 100 |